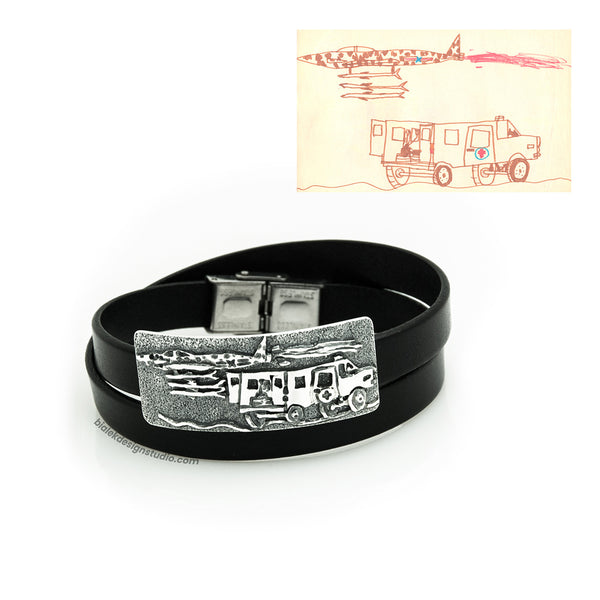 CUSTOM BRACELET FROM CHILD'S DRAWING - FOR THE PARAMEDIC FROM HIS OWN CHILDHOOD DRAWING
Regular price
1.234,00 zł
During placing the order, Ewa told me that the bracelet is to be a gift for her son, who is a paramedic in the army
‍
. Ewa's son literally drew his future in his early school years!

As Ewa wrote: "For me it is still incomprehensible how it could have happened that he drew his future in such detail at such a young age.
 I must add that at that time I did not allowing toys in the form of pistols, rifles, etc. but it didn't make sense because he was shooting from his fingers... Clearly we don't have much influence over (our children's) futures."
If you are interested in the price of jewelry from a child's drawing, be sure to include the drawing with your correspondence, because it is the main factor that determines the price. I work by hand (in silver 925 and gold 585), so the level of complexity of the drawing has a direct impact on the time and amount of work.
The drawings can be basically anything you want, usually a photo from the phone is enough. Just pay attention that they are not made in perspective / at an angle, have decent quality / size and be clear / sharp. If you are interested in an additional option (gold plated, set precious stones, etc.) or the drawing contains some characteristic features, elements that I should pay special attention to, it is always worth including this information. :)