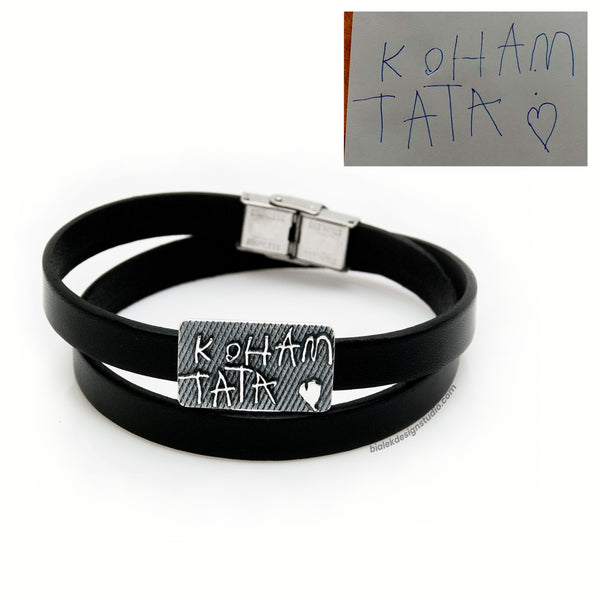 CHILD'S DRAWING BRACELET - LOVE YOU DAD ❤
Regular price
1.234,00 zł
If you want to know the price of jewelry from a child's drawing, be sure to attach the drawing to the correspondence, because it is the drawing that mainly determines the price. I work manually (925 silver and 585 gold), so the level of complexity of the drawing has a direct impact on the time and amount of work.
Drawings can be basically any, usually a photo from the phone is enough. Just make sure they're not in perspective/angle, decent quality/size, and clear/sharp. If you are interested in any additional option (gilding, embedding precious stones, etc.) or a drawing contains some characteristic features, elements that I should pay special attention to, it is always worth including such information. :)
external dimensions: any, project-dependent, agreed individually

delivery time: determined individually

color: silver, oxidized, gold (gilded with 24 carat gold)
"Jewelry from a child's drawing" - a family amulet
I treat the design of jewelry from a child's drawing exceptionally...
I analyze each project in detail because I am aware of how important details are in life and that they often decide that we remember something throughout our lives. I believe that all the focus, time and manual work devoted to creating each single project makes it gain (intangible) value, but the true magic of this unique jewelry really works when there is parental (and not only ;) ) love and emotion.
I am a supporter of gifts that are characterized by effort and commitment, I believe that such gifts have a greater value and stay in the head and ... in the heart for a long time ;). It's amazing to see how this jewelry engages the whole family around the gift, and the kids are bursting with pride if the parent carries their drawing with them all the time. :) Each such gift is unique, one of a kind, personalized and unrepeatable. I would like each piece of jewelry that I create to be like a memory of a moment locked in silver and accompany parents and children for a long time, and even be passed on, treated as a family amulet..