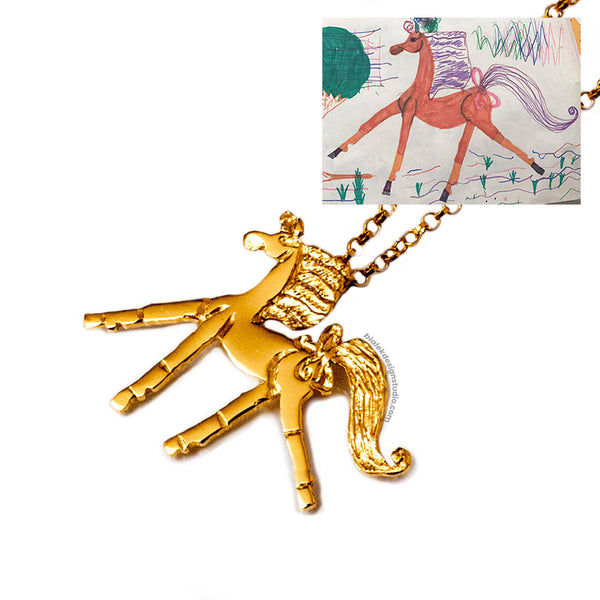 CUSTOM NECKLACE FROM CHILD'S DRAWING - THE HORSE WITH A BOW ON ITS TAIL
Regular price
1.234,00 zł
material: sterling silver

external dimensions: any, depending on the project

completion time: determined individually

color: silver, oxidized, gold (gilded with 24k gold)


"Child's drawing jewelry" - a personalized souvenir for a lifetime


Each jewelery design from a child's drawing is priced individually according to the submitted drawing along with a short description (dimensions, characteristics of the objects in the drawing). The valuation is free, it costs nothing.
The price depends on the form of the jewelry (necklace, bracelet, cufflinks, etc.), dimensions and the level of complexity of the drawing.
The drawings can be anything you like, but such that you can read something from them :). We analyze each project in detail, asking customers about special signs. We know how important details are and they are often something we remember all our lives.
Each item that leaves our studio is handmade by us.
Please contact me by e-mail:bialekdesignstudio@gmail.comor via a message on Facebookfacebook.com/bialekdesignstudio/
 --
We are supporters of gifts that are characterized by some effort and commitment. We know that these are more valuable and stay long in the head and… heart :).
We treat the project "Jewelry from a child's drawing" exceptionally and we believe that it will be a souvenir for a lifetime for everyone. Such a gift is unique. One-of-a-kind and unique. Additionally, it is marked by parental feelings, which have enormous power and are an inexhaustible source of love. that each copy made by us based on a child's drawing should accompany parents, children, and even be passed on, treated as a family memento.